17 August 2021

Cash JISAs lost £1.2bn in relative returns since 2011
A third of JISAs are invested compared to four-fifths of Child Trust Funds
Quilter calls for ten-year JISA review to boost investment participation
Since the introduction of Junior ISAs in 2011, child savers holding cash have lost over £1.2bn in returns relative to those offered by investments, according to new analysis by wealth manager, Quilter.
Each year, parents and grandparents contribute around £500m [1] to their child or grandchild's cash ISA. Assuming cash JISA returns of 2% since 2011, the value of these accounts stands at £3.5bn.
If instead the contributions were invested in a global index [2], the accounts would be valued at £4.7bn, meaning young savers have missed out on £1.2bn of value from excess cash savings.
Just under a third of JISAs are currently allocated to stocks and shares, compared with four-fifths of Child Trust Funds (CTFs), the predecessor to JISAs.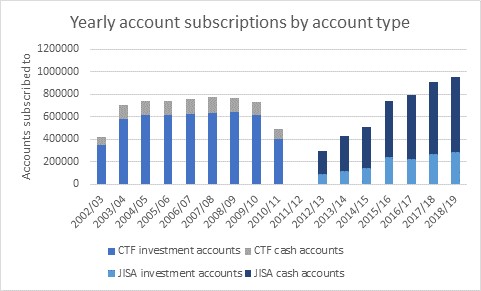 Source: HMRC [3]
In a new report on levelling-up children's investments, Quilter is calling on the government to conduct a ten-year review of JISAs to consider why so few JISA accounts are invested compared with CTFs.
The report finds that parents favoured stocks and shares CTF accounts over cash accounts because they received numerous nudges towards investments in the CTF literature, and all CTF providers were required to offer both a stocks and shares and cash account. Once more, if parents did not make an active selection between cash and investments, their child's account was automatically allocated to investments.
As part of the ten-year review, Quilter proposes that the government consider the decision making process of parents and grandparents when they open a JISA for their child and consider the communications and information given to parents by providers when they enquire about these products to ensure that the risks of cash accounts are properly considered.
Heather Owen, financial planning expert at Quilter commented:
"When it comes to the UK's savings behaviours, cash is king. Relatively few people choose to invest their savings in the stock market and instead favour current or easy access savings accounts, despite the historically poor returns on offer. Cash is favoured for both adult ISAs and Junior ISAs, with over two-thirds of such accounts being cash only products.
"While holding cash is no bad thing, favouring cash over investments is unlikely to build long-term financial prosperity as savers will miss out on the miracle that is compound growth, and inflation may simply erode the real value of their savings.
"Holding too much in cash is particularly unsuitable for children holding JISAs as the money will be locked away for up to 18 years, meaning any stock market volatility can be smoothed and the scope for compound growth is much greater.
"As we approach the ten-year anniversary of JISAs in November this year, the government should consider why so many JISA accounts are allocated to cash, and whether we can learn an important lesson from CTFs by developing a stronger nudge framework to guide parents into opening investment accounts for their child.
"We have an opportunity to create a new generation of investors who enter adult life with the best possible financial start. And that means avoiding the meagre returns on offer from cash products in favour of letting compound interest work its magic."


[1] Amounts subscribed to:
| | |
| --- | --- |
| 2012/13 | £294m |
| 2013/14 | £431m |
| 2014/15 | £405m |
| 2015/16 | £522m |
| 2016/17 | £525m |
| 2017/18 | £517m |
| 2018/19 | £555m |
[2] IA Global sector
[3] HMRC, ISA Statistics, Amounts subscribed to each component, and average subscription, June 2020 and HMRC, Child Trust Funds: detailed distributional analysis, February 2013